Pulsar GPS Current Interrupter
The PULSAR is a compact, battery or AC power driven, current interrupter device to be used when carrying out Close Interval Potential Surveys (CIPS), Direct Current Voltage Gradient (DCVG) and Test Post Polarised Surveys. The pulsar uses the latest solid state switching components, microcontrollers, GPS electronics and operating software. It has been designed so that it is easy to program and operate, yet rugged enough to resist harsh environments such as deserts.
The PULSAR has been designed to replace traditional type current interrupters and by using a GPS current interrupter device the operator can be confident of an accurate survey.
The Pulsar is available in 2 units – the handheld unit is enclosed in a rugged aluminium housing which is batteries or mains operated (with a Pulsar PSU) and contains an integral 50A switching element. The second option is an aluminium housed Panel mount unit for integration within Transformer Rectifier unit. The slave switching element is external to the panel enclosure to allow flexible integration within the design of the Transformer Rectifier unit. The slave switching units are available in 50A and 150A units. The handheld Pulsar is capable of operating an external slave switching unit.
The start and stop time can be set on the days for surveying with a minimum switching time of 1 hour. When the Pulsar is not switching the output remains "On" to maintain protection. When the battery life is low, the pulsar output is switched to "On" and the unit goes into a low power mode.
The timing resynchronisation with the GPS can be adjusted to preserve battery power.
The units are available in purpose built cases where 2 sizes are available, 2 or 4 Units allowing ease of transportation while also allowing protection of the units from damage.
Main Features
Hand held switching capacity of 50A
Intelligent easy to use 4 button interface
Large clear LCD screen
50 channel GPS Engine and Galileo ready (Firmware upgradable)
High sensitivity Active antenna
Powered from 2 D cells (hand held) or from an external power supply
Battery life up to 14 days
Specification
Timing Accuracy:
+/- 100ns
Maximum switching current:
(hand held) 50A
(50A slave) 50A
(150A slave) 150A

Maximum non repetitive peak voltage:
(Hand held) 75V
(50A Slave) 150V
(150A Slave) 150V

Supply Voltage:
2.3VDC - 3.6VDC
Current:
220mA (tracking)
20mA (sleep)
Number of satellite channels:
50
Correlations per second:
2 million
Max update rate:
2Hz
Sensitivity:
147dBm cold start
160dBm tracking
Antenna supervision:
Integrated short circuit detection and antenna shutdown.
Acquisition time:
8s cold start
28s warm start
1s hot start

Switching Intervals:
0.1s Off 0.1s On – Fastest
99.9s Off 99.9s On – Slowest
(In 0.1s steps for each)

Stability over 24 hrs:
+/- 1mS
Timing Synchronisation:
20 Minutes Prior to switching start time
Operating temperature:
-20 to +55 deg C
Storage temperature:
-40 to +85 deg C
Handheld Unit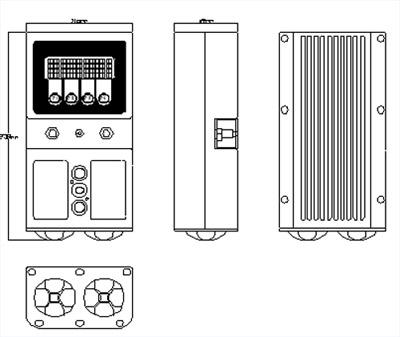 Panel Mount Unit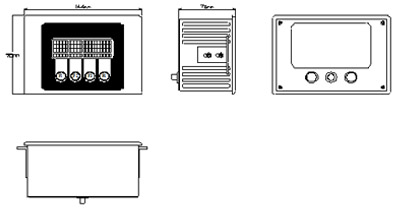 50A Slave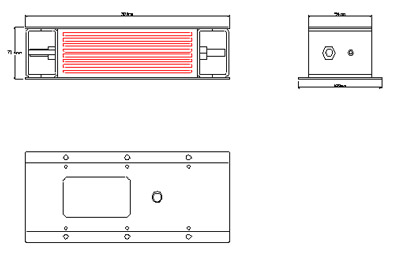 The 50A slave unit is designed to operate in free air. It is recommended to fasten to a metal surface when integrating within a Transformer Rectifier.
150A Slave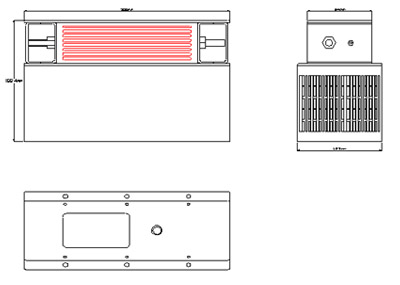 The 150A slave unit is designed to operate in free air.